Table of Contents
Ready to sip your way through the Kentucky Distilleries along the Bourbon Trail? 
This in-depth bourbon distillery tour guide will take you through 9 of the best Kentucky distillery tours like Maker's Mark, Woodford Reserve, Buffalo Trace, Four Roses, Bulleit, & more!
The 9 Kentucky Bourbon distilleries listed below are grouped within each region and then ranked for their tour and bourbon quality.  The majority of the bourbon distilleries are spread throughout the regions of:
Loretto / Bardstown
Louisville
Versailles / Lawrenceburg / Franklin
Due to the distance between these regions and potentially conflicting tour times, it might be difficult to tour your 2-3 favorite bourbon distilleries in one day.  
It's much better to choose a favorite bourbon brand (or the one you would like to know more about), reserve your tour ahead of time, and then see what other distilleries are nearby that you might enjoy touring or tasting directly before or afterward. 
Region: LORETTO | BARDSTOWN
1. MAKER'S MARK DISTILLERY
"Civilization begins with distillation"

William Faulkner
The road to Maker's Mark bourbon distillery in Loretto, KY, can be a little confusing. On my first visit here, the route guidance told me that I had arrived, and there was nothing but fields, barns, and a small house or two scattered about. 
To avoid potential confusion and arrive in time for your tour, Maker's Mark provides detailed directions on their website here: Maker's Mark/Directions. 
Regardless of which tour you reserve (they offer 6), you're in for a great experience. Plus, Maker's Mark is just a beautiful place. The grounds, house, and distillery buildings are picture-perfect.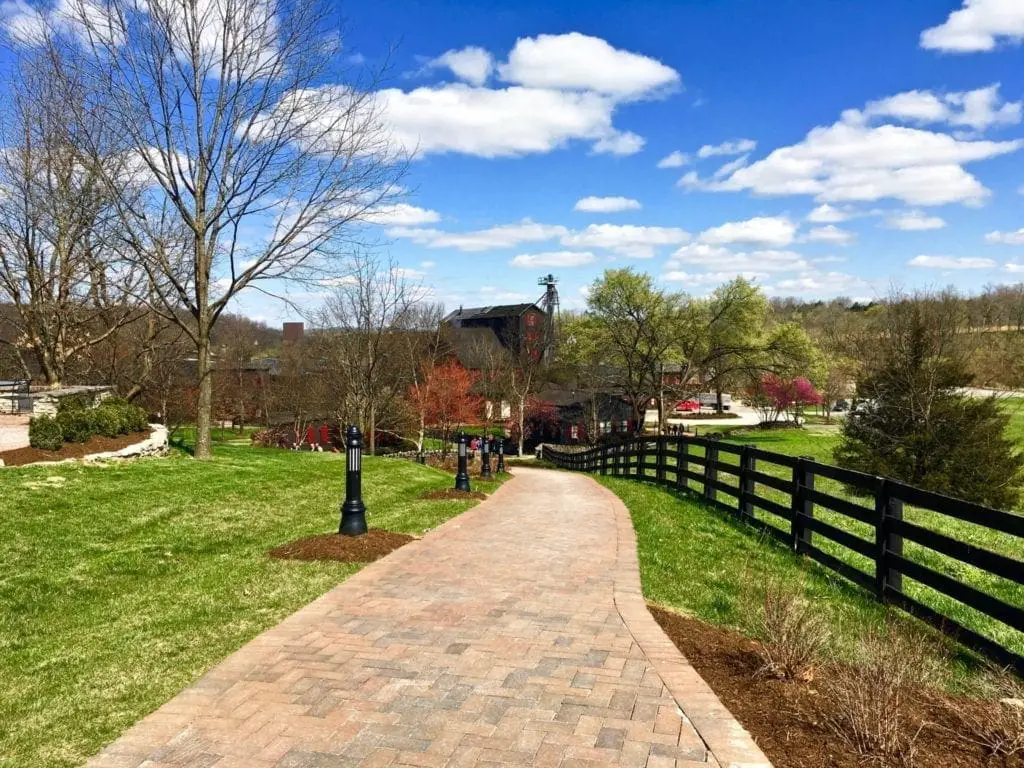 At the end of each tour, you'll have an opportunity to taste a selection of their bourbon.  
I've had the opportunity to experience 2 of Maker's Mark Distillery Tours, and if you only have time to tour 1 Kentucky bourbon distillery, make it this one.
 It was the hands-down favorite on both trips along the Bourbon Trail. 
General Distillery Tour Bourbon Tasting
Maker's White (which is basically moonshine or "white dog")
Regular Maker's Mark (the kind you can buy anywhere)
Maker's 46 (which is made by inserting seasoned French Oak staves into the whiskey barrels to add additional rich flavor)
Maker's Cask Strength (whiskey derived from a single barrel and my favorite of the 4).
After the tasting, you're given a decadent bourbon chocolate to savor before you walk under the Chihuly glass ceiling of the hallway to the Maker's Mark gift shop. 
If you like, you can dip your own bottle of Maker's in their iconic red wax or buy an exclusive bottle of the Maker's Private Select.

LOCATION
The distillery address is technically: 3350 Burks Spring Road, Loretto, KY 40037.
GPS will try to take you to the Business Office, but the Historic Distillery is more directly accessed using Bill Samuels Jr Road.   
TOUR INFORMATION
General Distillery Tour: $14 
 Maker's Immersion: $50
Heritage Tour: $25
Behind the Bar: Cocktail 101: $45
2. WILLETT DISTILLERY
"There is no bad whiskey. There are only some whiskeys that aren't as good as others."

Raymond Chandler
Located about 30 minutes from Maker's Mark is the Willett Distillery. 
While they are not on the official Kentucky Bourbon Trail, a visit to this distillery is still worthwhile, especially if you're planning to tour Maker's Mark or Heaven Hill. 
The Willet Distillery is perched on a hill overlooking the green valleys of Bardstown, Kentucky. 
This rustic family-owned distillery is beautiful and well-maintained from its photo-filled visitor waiting area to the final tasting room.
LOCATION
ADDRESS: 1869 Loretto Road, Bardstown, KY 40004.
PHONE:  502-348-0899.
TOUR INFORMATION
Distillery Production Tour with Tasting: $22
 Seasoned to Perfection: $18
3. HEAVEN HILL DISTILLERY
"Whiskey is liquid sunshine"

George Bernard Shaw
An official member of Kentucky's Bourbon Trail, Heaven Hill Distillery is also located in Bardstown and is near Willett Distillery. 
While their gift shop and visitor center are top-notch, the actual tour is not that exciting or enticing, especially when compared to the quality of Maker's Mark. 
Heaven Hill might not be a familiar name to you, but most likely, you've heard of some of their bourbon brands:
Larceny
Rittenhouse Rye
Elijah Craig
Evan Williams
While the website calls it a "tour," it's actually an informed tasting inside a room with a guide. You won't be walking through rick houses or seeing yellow bubbling mash. 
But, if you're looking to sample more varieties of bourbon while giving your feet a rest from touring distilleries, Heaven Hill is a great option. 
LOCATION
ADDRESS: 1311 Gilkey Run, Rd, Bardstown, KY 40004
PHONE: (502) 337-1000
COST
 Mashbill Tour and Tasting: $10
Whiskey Connoisseur Experience: $20
Stay Bonded: $15
Dining Tip | Eat Lunch in Historic Bardstown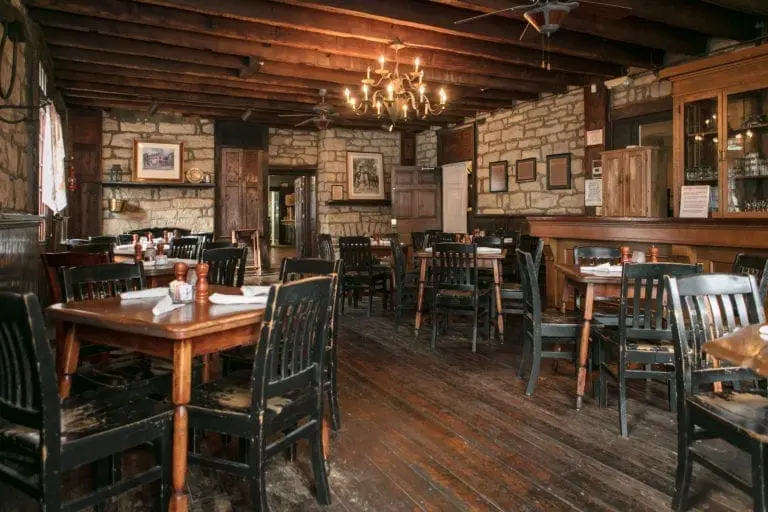 In between touring the many Kentucky distilleries, you're going to want some lunch or dinner, and Bardstown has so much to offer. 
Perfect for lunch or dinner, Talbott's Tavern, built-in 1779, is a site steeped in history.
"The Talbott Tavern is a uniquely well-crafted early American stone building and as a young boy Abraham Lincoln and his family stayed here. 
Gen. George Rogers Clark, Daniel Boone, and exiled French King Louis Phillipe and his entourage stayed here, even painting murals on the upstairs walls. There are noticeable bullet holes in the now faded paintings where legend Jesse James shot them" | Dry Stone Masonry Institute of America.
In keeping with the theme of the bourbon trail, they offer a customized flight where you choose your tasting made up of the wide variety of bourbon and rye they serve sourced from the surrounding Bardstown distilleries. 
Region: LOUISVILLE BOURBON DISTILLERIES
1. EVAN WILLIAMS EXPERIENCE
"Whiskey, like a beautiful woman, demands appreciation."

Haruki Murakami
The Evan Williams Experience is located in downtown Louisville on historic "Whiskey Row."
The seamless tour features state-of-the-art films and interactive elements to relay the history of Evan Williams and the art of distilling bourbon. 
All tours conclude with a bourbon tasting in one of the upstairs rooms on the recreated street of "Whiskey Row."
One tasting room is a "tavern" that once stood on that site with Prohibition-era replica tables where the bourbon could be hidden inside. An easy lift on the tabletop in front of you reveals the inner compartment that contains pre-filled bourbon glasses.
Although it's one of the lower-priced bourbons, Evan Williams is remarkably good in its flavor profile, smoothness, and complexity, and Evan Williams Single Barrel is excellent. 
LOCATION
ADDRESS: 528 West Main St, Louisville, KY 40202
PHONE: (502) 584-2114
TOUR INFORMATION
 Traditional Tour & Tasting: $15
 Sweet & Neat: Chocology: $25 (only available on Thursdays @4:00)
 Speakeasy Tasting Experience: $20
*Note: They offer seasonal tasting experiences as well.
2. BULLEIT FRONTIER DISTILLERY | The Stitzel-Weller Distillery Tour
"It is true that whisky improves with age. The older I get, the more I like it."

Robert Black
Originally opened on Derby Day in 1935 and reopened to the public in 2014, the Stitzel-Weller Distillery is one of the true cathedrals of the American whiskey industry. 
Located only five miles from downtown Louisville, the Bulleit Frontier Whiskey Experience is one of the most convenient and impressive stops along the Kentucky Bourbon Trail.
Bulleit Bourbon (and their Rye) has long been one of my favorite Kentucky bourbons. It's hard to miss that orange label, tilted just slightly as it curves around the lower half of the bottle. 
I managed to squeeze in their Stitzel-Weller Experience Tour, and although I had spent the day touring distilleries, I was not disappointed in this experience. At the end of the tour, you are given 4 bourbons to taste:
Bulleit Bourbon
Bulleit 10 Year
I.W. Harper
Blade and Bow
I've really come to enjoy Blade & Bow, but Bulleit 10 Year is still my favorite of this selection. 
LOCATION
ADDRESS (STITZEL-WELLER DISTILLERY): 3860 Fitzgerald Road, Louisville, KY 40216
PHONE: (502) 810-3800
TOUR INFORMATION
The Stitzel-Weller Experience: $14
Private Tour: The Stitzel-Weller Experience: $25
Stitzel-Weller Distillery Uncovered: $35
As of 2019, Bulleit has now opened another tour location in Shelbyville, Kentucky, called The Bulleit Distilling Company Visitor Experience. 
So far, they offer 2 tours ranging in cost from $20 – 30 dollars. Since I haven't personally visited the distillery yet, I won't include it in this guide, but here is the link to the site for more information. 
Region: VERSAILLES | LAWRENCEBURG | FRANKLIN
1. WOODFORD RESERVE
"A good gulp of hot whiskey at bedtime—it's not very scientific, but it helps."

Alexander Fleming (Inventer of Penicillin)
The Woodford Reserve tour is charming in every aspect—from the old barrel railway used to move the freshly filled barrels to the rick house to the on-site bottling facility and visitor / tasting center. 
The Woodford tour ends, as all do, with the bourbon tasting. The tasting room is located on the other side of the fireplace wall of the visitor center, with a rectangular bar facing the fire. The guide stands in the middle, offering tasting note tips.
We were able to taste the regular Woodford Reserve and the Cask Strength (or dessert bourbon as they call it) combined with a chocolate bourbon truffle. 
The Woodford Reserve tour is one of the absolute best along the Kentucky Bourbon Trail.  
LOCATION
ADDRESS: 7785 McCracken Pike, Versailles, KY 40383
PHONE: (859) 879.1812
TOUR INFORMATION
General Distillery Tour: $16-20
Bourbon Legacy Tour: $45
Friday Night Tour: $20
2. FOUR ROSES DISTILLERY
"Nothing is so musical as the sound of pouring bourbon for the first drink on a Sunday morning. Not Bach or Schubert or any of those masters."

Carson McCullers
Situated on top of a breezy hill is the most romantic of the Kentucky distilleries along the Bourbon Trail: Four Roses.
Before or after your tour, browse the large gift shop fittingly accented throughout with roses. You will be given 3 bourbons to taste:  The Standard Yellow Label, The Small Batch, and The Cask Strength.
LOCATION
ADDRESS: 1224 Bonds Mill Road, Lawrenceburg, KY 40342
PHONE: (502) 839-3436
TOUR INFORMATION
A Taste of History: $7
Distillery Tour: $10
3. WILD TURKEY DISTILLERY
"There's no app for a bourbon buzz on a warm day in a cool, dark bar. The world will always want a drink."

Gillian Flynn
The Wild Turkey Tour is as industrial as it gets. Not that it makes the tour less interesting, but I prefer the smaller distilleries along the Bourbon Trail as opposed to the mass conglomerate operations. 
The tour lasts about one hour, and you get to see where they make the bourbon and also bottle the various vodka brands that they own. An impressive operation, to say the least. 
The entire experience is similar to the Buffalo Trace tour, even down to the tasting at the end where you request which bourbon you want to taste (limit 2) and take it back to a high-top table to enjoy. 
The Visitor Center is a fun place to look around and learn a bit more about the history of the distillery location and the origin of the name. 
LOCATION
ADDRESS: 1417 Versailles Rd, Lawrenceburg, KY 40342
PHONE: 502-839-2182
TOUR INFORMATION
4. BUFFALO TRACE DISTILLERY
"Too much of anything is bad, but too much good whiskey is barely enough."

Mark Twain
While not a member of the official "Kentucky Bourbon Trail," Buffalo Trace Distillery is still worth visiting. 
Consider the brands they make; in addition to the standard Buffalo Trace Bourbon, they are also responsible for crafting Eagle Rare, E.H. Taylor, Stagg, Blanton's, Sazerac Rye, Weller, and Pappy Van Winkle, to name a few.   
Unless you want to take a special tour, you can typically get into the regular tour at Buffalo Trace (or most distilleries, actually) without a reservation. 
The one special tour we had actually taken the time to reserve, unfortunately, turned out to be our least favorite: The Buffalo Trace Hard Hat Tour.
The grounds are beautiful, not to mention they have one of the largest and most interesting gift shops in the distilleries, but it is really industrial. 
But, the tour is also highly informative, and the history of Buffalo Trace and the area is interesting.
The bourbon tasting experience at the end of the tour leaves a little to be desired. Our group of 15 or so had to hover around a small wooden bar, rushing through the tasting to make room for the next tour coming through. 
LOCATION
ADDRESS: 113 Great Buffalo Trace, Franklin County, Frankfort, KY 40601
Phone : 800-654-8471
TOUR INFORMATION
All Buffalo Trace tours are complimentary including tours for large groups or tours that require reservations.
The Trace Tour
The Hard Hat Tour
National Historic Landmark Tour
Bourbon Barrel Tour
Ghost Tour
E.H. Taylor Tour
Final Thoughts
"My own experience has been that the tools I need for my trade are paper, tobacco, food, and a little whisky."

William Faulkner
I look forward to more Kentucky bourbon trail trips and tours in the near future, whether the bourbon distilleries are on the "official" Bourbon Trail or off, so check back for updates!  
If you're planning to stay in Louisville, be sure to check out this Weekend Travel Guide for tips on what to do and where to stay in Louisville.