Table of Contents
Dreaming of a return trip to the Amalfi Coast?  Or determined to finally make this bucket-list trip a reality? 
Whether you're looking for a refresher on Amalfi, Italy, or you're a first-time traveler in search of some advice for this stunning part of the world, then read on…
The Amalfi Coast consists of several cities sprawling along the edges of the Tyrrhenian Sea in the Campania region, beginning with Salerno and ending with Positano. In between are many of the coastline's most iconic towns, such as Amalfi and Ravello. 
Sorrento is often included as part of the Amalfi Coast because of its proximity, even though it is technically located on the Sorrentine Peninsula. 
During the Middle Ages, Amalfi was a key port for military fleets and was at one time the capital of the maritime republic. Due to Amalfi's status, the coastal region took its name as representative. 
How to Get From Rome to the Amalfi Coast
If you're heading to the Amalfi Coast from Rome or any of the other major cities of Italy, the fastest and easiest way to get there is to take the Frecciarossa high-speed train (operated by Trenitalia) to Naples or Salerno and then rent a car. 
Going directly to Naples and then on to Amalfi might sound like the most appealing option because of its familiarity, but unless you plan on staying in Naples or taking a trip to Pompeii, it can turn into a driving nightmare.
Italy is notorious for its manic, carefree drivers, but Naples takes it to a new level entirely. 
There are so many cars darting in all directions, each person trying to avoid the backed-up-bumper-to-bumper traffic on the main thoroughfares; it's the "no rules" feeling you get when driving through a mall parking lot on Christmas Eve.
So, if you can, avoid Naples, and take the train all the way to peaceful, beachside Salerno where you can rent a car near the train station, and you can get your bearings in a less-stressed state before you begin your drive to the Amalfi Coast.
A Note on Car Rentals in Italy
∇     Take out all of the insurance you can. A fender bender is only a curve away. Even if you have insurance through your credit card (American Express Platinum included), double-check because the coverage probably won't apply in Italy. 
∇     Many agencies are closed on Sunday. I found this out the hard way. So, just be aware of the procedures for renting or returning a car on a Sunday so you don't find yourself in a fix. 
Driving the Amalfi Coast
It's only about 15 miles (25 kilometers) from Salerno to Amalfi, but it can take a little longer with all of the hairpin twists and slow tour buses. 
But, most likely, you won't mind because the vast majority of the drive hugs the coast, giving you sparkling views of the azure Tyrrhenian Sea and taking you through lovely Italian seaside towns — Vietri Sul Mare…Cetara…Maiori…Minori…Amalfi…
While it is an absolutely breathtaking drive, and I highly recommend driving it yourself, it does require some courage and awareness.
A Few Driving Tips
∇     Fold in your side-view mirrors. If you don't, they'll get smashed off, as is the case for many of the cars you'll see. 
∇     Use the mirrors strategically placed along the curved parts of the road to help you see what's headed towards you, and you can adjust your speed accordingly (or if it's a bus, just wait). 
∇    In cases of extreme curves where there is limited to no visibility to the other side, there are traffic lights that will shine red, yellow, and green. If it's green, you're free to go, yellow, take it slow, and if it's red, stop and wait until the cars from the other side are let through. 
∇     Locals drive fast and will pass you. Don't be a hero and try to keep up with them. They drive the road every day and know it. You don't.
∇     Bicyclists and Vespas are zipping along the road, and here and there, a mule cart loaded with fruits and vegetables as well, so be on the lookout for these smaller, less visible modes of transportation.
Exploring the Town of Amalfi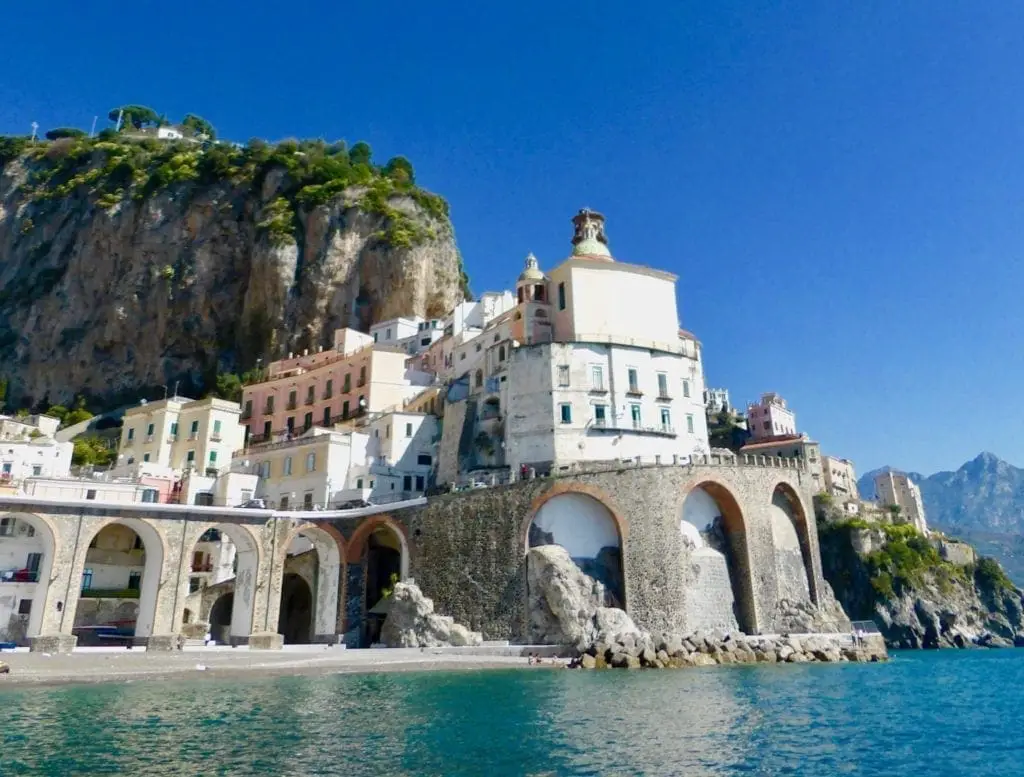 I think that whichever town you first call home on this medieval coastline is probably the place you fall in love with and want to return to. My favorite place is Amalfi itself. 
Amalfi's heart is the centrally located main square with the 11th century Roman Catholic Cathedral of Amalfi rising up from the square, which houses the relics of the Apostle St. Andrew.  
Its distinctive Arab-Norman Romanesque architecture is eye-catching, while the rich mosaics glint the contrasting hues of gold and black.
The Amalfi Coast is also known for its lemons. They're huge. So huge you think at first glance they must be a melon of some kind. 
Ever heard that saying, "When life gives you lemons make lemonade"? Well, the Italians take that advice a step further and instead make Limoncello — the result of pure grain alcohol, lemon zest, and sugar. Served after dessert and espresso as a digestif, it's a sugary yet satisfying way to end a meal, especially if Grappa isn't your thing.
Another Amalfi treat is Torta di Limone (a.k.a. Amalfi Lemon Cake). Seek out the ones that look like a woman's breast…(I know). Trust me, it's a delicious dessert, especially if you prefer citrus to chocolate or other heavy desserts.
As far as getting around the town of Amalfi, all you need is a comfortable pair of shoes. Up one street, down another more hidden one. Walking the cobblestone steps and passageways is the best and most romantic way to get to know this small, medieval town. 
Amalfi Restaurant Suggestions

∇     Taverna degli Apostoli— Tucked under the base of the Amalfi Cathedral. Go for dinner. Although the menu can be slightly limited, they serve fresh, homemade pasta, making for a deliciously memorable experience. They offer one of the best Torta di Limone, so save room. 
∇     L'Abside — Wanting to escape the main thoroughfares? Take the winding side streets to this much smaller but quieter square where they serve a flavorful lunch and dinner. We loved it so much we went twice in one trip. The food, atmosphere, and service do not disappoint. 
∇     Taverna Buonvicino — Located left of the Cathedral down the curving pathway of the Via dei Prefetturi is a cozy white tavern with a vaulted ceiling and dark beams that's perfect for a candlelit dinner and a local glass of wine.
∇    Piazza Duomo — A crisp modern establishment with white chairs and tablecloths situated in the middle of the main square and perfect for people watching. Recommend for lunch.
∇     Donna Stella — Ever wanted to eat pizza under a canopy of lemon trees? Well, you can at Donna Stella. It's definitely not fine dining, but it is a unique experience, and the pizza is fresh and tasty.
Where to Stay in Amalfi
There are so many fantastic places to stay along the Amalfi Coast, but I loved the Hotel Santa Caterina so much, I stayed there twice. Each time was equally above and beyond expectations.
*Note: It is a Seasonal Hotel, closing from early November to mid-March 16, 2018
Why stay here? So many reasons…

∇      THE VIEWS! To the left is Amalfi, and there is nothing but the blue, blue sea stretching out in front of you. Morning coffee and breakfast is served on one of the many terraces, and even though you may have an itinerary calling your name, you'll want to linger. 
∇ Proximity to Town – you can walk or take one of the hotel trams that operate on a regular schedule. If you do walk, do be mindful of your footwear. 
This is no time for stilettos or slippery soled shoes. There is a sidewalk most of the time, but when it fades away, you have to be careful of oncoming cars and tuck them out of the way. The rails are there, but they are low at times, so again, awareness is key. 
With those warnings out of the way, it's a gorgeous walk with the sea rippling on your right and boats drifting in and out of the harbor below. 
*Note: The walk to town is completely downhill, meaning that the walk back is entirely uphill, so sometimes it's nice to walk down and snag a tram or taxi at the pier to avoid overtaxing yourself (or in those cases when you might have had a little too much vino). 
∇ The Pool Deck & Elevator – If you can, try to save at least one day where you stay and enjoy the hotel amenities. Vacations are for relaxing, right? 
From April to October, lunch is served at the AL MARE restaurant on the terrace just above the pool and patio. (*Note: If they have a Limone "Lemon" Pasta on the menu, order it.) 
I recreated the recipe from memory and if you're interested in trying it, click here. 
For a casual snack, order from the "Beach Club Bar." They'll make you any poolside cocktail you wish, or if you're just in the mood for some prosecco, they've got it all. All drinks come with a salty accompaniment like pistachios and juicy green olives.
Visit Ravello
The locals will tell you that a day trip to Ravello is a must. If you're in Amalfi for more than a day or two, it's a place you definitely want to go to. 
If you choose to drive yourself, take note that it is a winding, uphill road, and once you reach Ravello, you'll need to pay to park in a designated lot and walk to the village (which isn't far). 
The main square is large, with several stores selling colorful, handmade dishware and pottery, but the main attractions are the Villas. You can tour the 13th century Villa Rufolo, and the views from its terrace alone are the reason to go.
Once you've worked up an appetite touring Villas and exploring the mountaintop village, stop in for a bite of lunch at Palazzo della Marra. A little off the beaten path, this B&B is located in one of the most ancient, medieval buildings in all of Ravello. 
They offer a wide selection of local wine, fresh pasta dishes, and various seafood options. The friendly, welcoming staff makes it a win-win all around.
Visiting the Isle of Capri
*Note about the Amalfi Coast during the off-season. If you visit the Amalfi Coast in November through March (and even early April), you will have a more difficult time finding a boat or ferry to take you to Capri or any of the other islands or towns. 
It's not impossible, and your hotel concierge can help you find arrangements, but many boat and ferry services do not run the usual schedule to Capri, so be open to making alternative plans.
Getting to Capri is half the fun; once you dock on the island, it can get a little hectic due to all of the tourists. If you want to experience a quieter, more authentic area of the island, head over to Anacapri. 
While there is a bus that will take you there, I recommend hailing a cab. Not only will you get there faster, but the drivers are also basically like having private tour guides, letting you in on the best places to shop and eat.
If stunning, panoramic views are what you're after, then definitely take the 12-minute chairlift to the top of Mount Solaro, the highest point on Capri. 
You can also walk to the summit, but it would take you between an hour to an hour and a half. The chairlift definitely gets my vote. Single chairs (with a safety bar) silently lift you off the ground and carry you to the top. 
The sea stretches out to the right while, below your dangling feet, local islanders work in their gardens and vineyards or wave to you while they sip their wine.
The top of Mount Solaro can be extremely windy, but the view from every vantage point is stunning. 
If you need a snack or a beverage, there is a shop where you can purchase some light bites. There are also lounge chairs and tables scattered about if you need a rest.
Since there isn't a time limit for how long you can stay on top of the mountain, when you're ready to leave, head back to the chairlift and make the peaceful descent back down to Anacapri, where you'll find loads of shops and ristorantes.
A FEW TIPS
∇     Wear sunglasses and dress in layers. The sun may be warm, but the wind and sea spray can be chilly. If you wear a hat, make sure it is secured because the wind will swipe it right off your head.
∇     Be mindful of the time. Many of the boats leave around the same time, and if you're not careful, you might not be able to find a cab back to the docks, and the last thing you want is to miss the boat. (Although, there are worse places to be stranded than on the Isle of Capri.)
∇     Bring cash to tip your crew when you return.
Amalfi Coast Attractions Near Capri | The Faraglioni
No doubt you've seen these rock formations before: in movies, perfume ads, and Instagram posts. They basically serve as the stone gateway to the island of Capri. 
You'll have an opportunity to view them up close on the boat ride in, and they're also clearly visible from the top of Anacapri. 
Amalfi Coast Attractions Near Capri | The Blue Grotto
The Blue Grotto is one of the stops along the way for those who want to board a wooden boat, lie flat on their back, and be rowed inside the glowing blue cave. 
Because it is such a popular tourist spot, be prepared, because you might have to wait.
Visit Positano
If you drive to Positano, it will take you around an hour to get there from Amalfi. But, if you're in the mood to relax and enjoy the view, take a boat. 
A ferry runs between the two, or you can hire your own private boat to take you. For pricing details, visit this link.
While Amalfi has some hills and upward slopes, the streets of Positano are completely stacked one on top of the other, so be prepared to walk up the incline and take lots of stairs. There are so many fascinating stores selling art, pottery, hats, clothing that you could spend a whole day here and not see it all.
Once all of the walking and climbing takes its toll, and you're ready for a breeze, make your way toward Da Vincenzo for a glass of prosecco and a classic pasta dish or fresh seafood.
Amalfi Coast Packing Essentials
∇     Sunglasses: You'll need them to protect your eyes from the bright sun reflecting off the sea (plus, you'll fit right in with the Prada-wearing locals).
∇     Comfortable, non-slip walking shoes. Whether you're walking around the cobblestoned streets of the towns, climbing up and down steps, or maneuvering around a boat bound for Capri, you'll want cushion and stability.
∇    For clothing, think classic. The Italians are stylish, but they infuse that chic style with casual notes, so no need to overdo it during the day. It's more important to be comfortable as you explore the coast. Do bring at least a couple of nicer options for restaurants that offer a fine dining experience.
HELPFUL APPS
∇     Babbel or Duolingo: Don't know the language but want to start? Check out these easy-to-use apps for a few quick lessons. It's always good to learn a few helpful phrases. The Italians definitely appreciate your effort; however, since most Italians in this area speak English very well, you should have very little trouble or stress communicating. 
∇ Say Hi: An absolute gamechanger when it comes to language barriers. It's free, but I would be willing to pay for this app. Choose which language you want your words translated into, speak into the microphone, and voila, your voice and words are translated into the selected language, which can then be played. You can see the transcript as well to make sure the app heard you correctly. 
∇     Google Translate: While it might not be the most poetic of translations, it usually is correct. The app version allows you to hold your phone over any text, and it will translate it immediately. Perfect if you need a quick menu translation.
∇     TripIt: Want all your travel plans (reservations, boarding times, car rental information, etc…) kept in one place? Tripit is the answer. It's free and easy to use. It also allows you to share the itinerary with others, so everyone is on the same page. Don't have wifi? No matter. You can still access all of your travel information when the internet isn't available.
∇     Sygic Travel: Need some inspiration for what to do in a particular location? Sygic Travel maps your location, and popular sights will pop up in little bubbles. Click on one, and it will give you detailed information about the site and give you opening and closing times and ticket prices (when applicable). Plus, the app provides a link to the destination's website. You can access your free account on a computer or smartphone, and it is available when wifi is not. 
CIAO!
Looking for more travel ideas to Italy? Check out these guides:
Recommended Reading